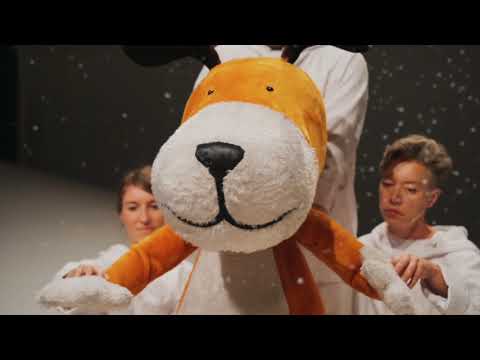 Slot Machine Theatre presents
Kipper's Snowy Day
10th to 30th December, various times
---
'It was a new morning, and it was snowing!
Kipper rushed outside.
The snow lay deep and smooth and new, like an empty page waiting to be scribbled on…'
Kipper and his best friend Tiger go on an adventure in the snow – but on the way they lose their friend Arnold in a terrible storm. Will they find him? And will they find their way back home?
Slot Machine Theatre present the first ever stage adaptation of Mick Inkpen's well-loved books.
Filled with original songs and music, gorgeous puppetry and gentle humour, this warm-hearted Christmas show is perfect for children and their families.
     

This show was commissioned and co-produced by Norden Farm Centre for the Arts, Maidenhead.
---
* All ticket prices are inclusive of a £1 Restoration Levy
---
Relaxed, socially distanced, BSL interpreted and snuggle shows
Sunday 11th December, 2pm - Socially Distanced, Relaxed Performance
Thursday 15th December, 5.30pm - Socially Distanced, Relaxed Snuggle Show
Friday 16th December, 5.30pm - Relaxed, Snuggle Show
Saturday 17th December, 2pm - BSL Interpreted Performance
(This show will feature a live British Sign Language interpreter and is accessible for d/Deaf and hard of hearing audiences.)
Our Socially Distanced performances will have a guaranteed reduced capacity so you can enjoy a safe and social visit to the theatre.

Our relaxed performances create a warm welcome to people who might normally find it difficult attending the theatre. This can include: people with learning disabilities, movement disorders, Autistic Spectrum Disorder, other sensory, communication or neurological conditions, or those with young children or babies.)
We have a visual story to accompany the show. This visual story will help you familiarise yourself with the story before you watch the performance.
Our Snuggle Shows are the perfect post-school time for you to come dressed in your pyjamas ready to go home and drift off to bed!
---
School performances
Specific Schools Performances can be booked on the following dates.
Friday 9th, Tuesday 13th, Wednesday 14th, Thursday 15th & Friday 16th December, 10.30am (start time is flexible)
Tickets: £11*
For more information or to make a school booking enquiry, please email groupbookings@eastleigh.gov.uk
Group bookings
Group booking prices - £12* for groups of 10 or over
Any group bookings under 20 tickets can be purchased directly online, the price will automatically reduce when put into the basket. For more than 20 tickets customers will need to be in touch with us.
For more information or to make a booking of over 20 people, please email groupbookings@eastleigh.gov.uk
Event information
---
BOOK YOUR TICKET
Click to choose date and time
Location:
The Berry Theatre
DURATION
55 minutes
PRICES
Full Price: £16.00
Over 60s: £15.00
Under 16 Years: £15.00
NHS Staff: £15.00
Armed Forces: £15.00
Suitable for
---
Ages 3+ and their grown-ups
Inclusive Performances
Sign interpreter present
Relaxed performance
Fully accessible for wheelchair users
Free Personal Carer Ticket
Your Experience
Snuggle show
Ticket Offers
Group booking discounts