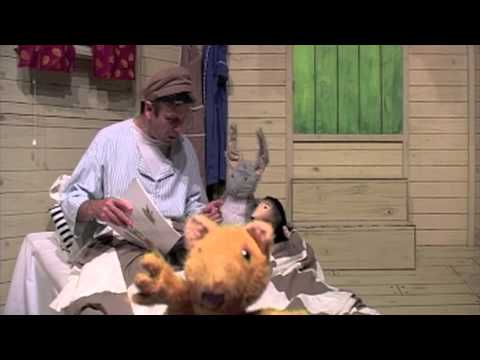 presents One Snowy Night
11th to 30th December, various times
The charming stage adaptation of Nick Butterworth's best selling book, featuring Percy the Park Keeper.
As Percy goes to sleep after a hard day sweeping leaves, he's woken by a knock at his door. Who could it be on a night like this?
It's Squirrel, cold and shivering on the porch and looking for somewhere warm to sleep. There's nowhere warmer than Percy's bed – but it soon becomes a fur and feather-filled squeeze as all the freezing park animals come in from the cold. Fox, Badger, Hedgehog and friends warm their collective paws (and claws) in Percy's home until they, too, are disturbed by a little something burrowing into the hut from below!
A snuggly, heart-warming story, with songs to sing along to, furry puppet friends to meet and blankets to be tucked up in, One Snowy Night is great fun for younger children!
magical – an ideal introduction to the theatre for children
---

Originally co-produced and commissioned by Norden Farm Centre for the Arts
---
*All tickets prices are inclusive of a £1 Restoration Levy
---
We are thrilled to be offering School Performances, a Relaxed, Socially Distanced Performance, along with our post-school Snuggle Shows:
Sunday 12th December, 2pm: Socially Distanced, Relaxed Performance
(This show will have a guaranteed reduced capacity so you can enjoy a safe and social visit to the theatre. Our relaxed performances create a warm welcome to people who might normally find it difficult attending the theatre. This can include: people with learning disabilities, movement disorders, Autistic Spectrum Disorder, other sensory, communication or neurological conditions, or those with young children or babies.
---
Thursday 16th December, 5.30pm: Socially Distanced, Snuggle Show
(This show will have a guaranteed reduced capacity so you can enjoy a safe and social visit to the theatre. Our Snuggle Shows are the perfect post-school time for you to come dressed in your pyjamas ready to go home and drift off to bed!) 
---
Friday 17th December, 5.30pm: Snuggle Show
(Our Snuggle Shows are the perfect post-school time for you to come dressed in your pyjamas ready to go home and drift off to bed!)
---
School performances
Specific Schools Performances can be booked on the following dates.
Friday 10th, Tuesday 14th, Wednesday 15th, Thursday 16th & Friday 17th December, 10.30am (times are flexible)
Tickets: £11
For more information or to make a booking enquiry, please email groupbookings@eastleigh.gov.uk
---
Event information
---
BOOK YOUR TICKET
Click to choose date and time
Location:
The Berry Theatre
DURATION
55 minutes
PRICES
Full Price:
£15
Over 60s:
£13
Student:
£13
Under 16 Years:
£13
NHS Staff:
£13
Armed Forces:
£13
Suitable for
---
3 years +
Inclusive Performances
Sign interpreter present
Relaxed performance
Fully accessible for wheelchair users
Your Experience
Snuggle show
Ticket Offers
Group booking discounts